Akron Children's Hospital
Akron Children's Hospital is ranked among the best children's hospitals and they ensure families have convenient access to pediatric care within our community. Akron Children's Hospital is dedicated to improving the health of children through outstanding quality patient care, education, advocacy, community service and research. Their mission and vision align with the core values of Fred Olivieri Construction Company, providing quality service to clients and our community.
As a hospital contractor, Fred Olivieri Construction has provided construction management services on two ground up medical office buildings as they expanded their outreach to the Stark and Portage County regions. These 29,500 square foot facilities were built by craftsmen and staff that were dedicated to their service, knowing our efforts will have an impact on the lives of many children within our community. These buildings provide a feeling of comfort and welcomeness for the patients. As the general contractor, our goal was to make the pediatric office design enhance the overall experience for all patients and families. The ACH buildings offer exam rooms, physician and staff work areas, charting stations, audio visual testing, physical therapy, and support services.
Akron Children's Hospital also serves as a manager of neonatal services at various other facilities. Fred Olivieri Construction was tasked with implementing a phased remodel in an existing NICU department. The importance of maintaining proper Infectious Control standards was critical for the lives of such vulnerable patients. Our team was able to complete the phased remodel while all doctors and physicians continued to tend to the needs of patients. Fred Olivieri Construction Company has a deep respect for the health care professionals within our community and we are proud of our partnership with Akron Children's Hospital.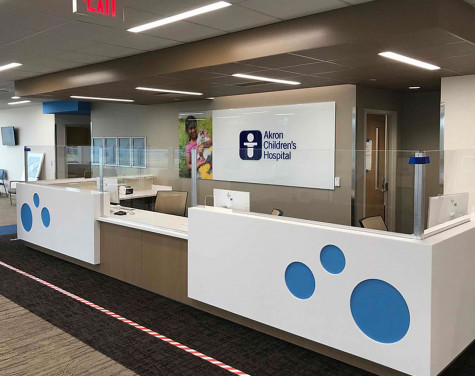 Akron Children's Hospital
Portage County